Where's My Mickey?
is a mobile app based on
Mickey Mouse
for all iOS devices and Android. It was released on the App Store on June 20, 2013. It is part of the Where's My Water franchise.
Description
Edit
Join Mickey on a brand new adventure in Disney's most popular mobile game franchise!
Where's My Mickey? introduces a whole new world of life-like physics-based gameplay with stimulating weather mechanics and humorous animations. Immerse yourself in the ultimate mobile gaming experience as you watch funny episodes while solving challenging puzzles! Tap, swipe, and swirl to help Mickey collect water and complete each story. Every drop counts!
Original Episodes – Explore up to 5 unique episodes with surprising and witty scenarios! Watch how each story unfolds and ends as you play through individual level packs!
Brand New Weather Mechanics – Use wind, clouds and rain to maneuver through 100+ levels filled with fun challenges!
A Whole New Look – A classic Mickey art-style with a contemporary touch, inspired by Disney Channel's new series of Mickey Cartoons!
Collectibles and Bonus Levels – Help Pluto look for hidden collectibles to unlock more bonus puzzles!
Stuck on extra challenging puzzles? – Get a hint to help you out!
Featuring Mickey and Friends – Discover more hilarious episodes with Goofy & Minnie Mouse!
Character appearances
Edit
Episodes Packs
Edit
The gameplay for the Goofy level packs are reversed. Water will kill the stars and red liquid will fill them up.
Perry and Swampy make a cameo at the beach with Mickey in the trailer.
The game is from the creators of Where's My Water
A Glass Half Empty and the Menace of Venuis are used in Mickey's Level Pack
It's a Big World After All is used in the XL version
The only time Minnie is in a level pack is in "The Menace Of Venice"
The only time Mickey is in a Goofy level pack is in the end of "Shipwrecked"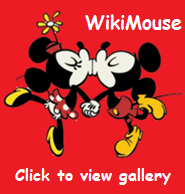 Other Languages
Edit